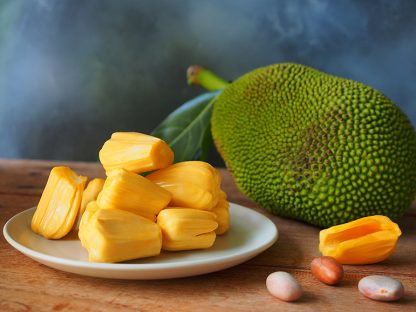 The jackfruit (Artocarpus heterophyllus), also known as jack tree, is a species of tree in the fig, mulberry, and breadfruit family (Moraceae). Its origin is in the region between the Western Ghats of southern India and the rainforests of Malaysia.
Here Are Incredible Benefits of Jackfruit Seeds
Fights Wrinkles. In order to avoid wrinkles on your skin take a seed of jackfruit and grind it smoothly in cold milk for some time. …
Helps in Curing Mental Stress and Skin Diseases. …
Prevents Anaemia. …
Healthy Hair and Good Eyesight. …
Prevents Indigestion. …
Builds Muscles.
ORGANIC JACKFRUIT/CHAKKA
Out of stock
Final Price ₹
70